KYOCERA Multifunction Printers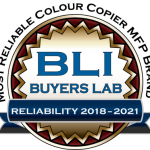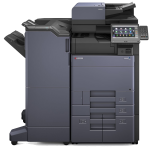 KYOCERA's series of SRA3 colour MFP's have been designed to build on the success of their predecessor models. Offering the same unrivalled print quality, reliability, functionality and software integration, these new SRA3 devices now take the subject of document security to a new level.
Since their launch in September 2016, the outgoing TASKalfa 2552ci / 3252ci / 4052ci / 5052ci / 6052ci have been key to Kyocera's success in the A3 colour MFP market. Indeed, during 2018*, the TASKalfa 3252ci has been the best selling product in the 31-44ppm A3 colour segment whilst the TASKalfa 4052ci was the third best selling product in the same segment. Meanwhile the TASKalfa 2552ci and TASKalfa 5052ci have been ranked in the top 10 best selling devices in their respective market segments.
The new TASKalfa 2553ci / 3253ci / 4053ci / 5053ci / 6053ci will only serve to build on this success. Utilising the same engines as their predecessors, which were awarded the most "Reliable Copier MFP brand Award 2018-2021" by BLI, these new devices offer the same build quality that our partners and their customers have come to expect of Kyocera.
This new series of SRA3 Colour MFPs comprises five products, all of which are based upon the same innovative and compact design. Furthermore, two new SRA3 monochrome devices are also based on the same platform, using the same enhancements and operation panel.
This means that partners and users alike will benefit from commonality of operation, options and service/maintenance. This range offers print speeds from 25ppm up to 60ppm and a wide range of productivity enhancing options. The user has the choice of four different document processors, four different finishing devices including booklet finishing or mailbox and a compact and space saving internal finisher is also available.
Furthermore, with the optional paper trays, these devices boast an impressive overall maximum paper capacity of 7150 sheets. This new platform of devices incorporates advanced technology to deliver outstanding image quality using Kyocera's recently developed toner designed to achieve the most vivid of colours and a print resolution of 1200dpi x 1200dpi 2-bit colour (equivalent to 3600dpi x 1200 dpi). What's more, these devices have been designed to maintain this level of print quality at full engine speed.
This entire new series of devices support paper formats from A6 up to SRA3. The combination of SRA3 capability and the Superior Image Quality can be used to produce colour graphics, complete with crop marks onto SRA3 paper which can then be accurately trimmed for full-bleed edge-to-edge A3 prints.
Last but not least, all of these MFP's can be precisely configured with software solutions, including KYOCERA's proprietary open software platform, HyPAS, to maximize end user's workflow capability and the addition of the Document Security Kit as standard make these amongst the most MFPs on the market.
*Source – IDC (UK and Ireland)